Wednesday, July 6th, 2011 at 2:28 am
Profitable Niche Marketing
Want a Profitable Niche Marketing Online Business?
You've heard it said that content is king, right? I say baloney! Content is court jester if you don't take the extra few steps it takes to dominate your niche!
You can publish articles, blog posts or videos on your website all day long, but if you really want the search engines to love you, to put your content in the top positions reserved only for authority websites, to be seen by the masses, and turn your hard work into a profitable niche marketing business, then niche domination is the name of the game!
To have a thriving successful profitable niche online business, with an erupting volcano of spilling over leads and traffic to your list and financially stability for your future, then you need to discover the simple yet detailed strategy that will take your content, put it on speed dial, and have you dominate your niche in 45 Days!
Profitable Niche Marketing – Dominate Your Niche
What is a niche exactly? It's focusing on a specific market to a specific audience. If you have a dog training website, for example, put out tons of content on how to train your dog and throw in some affiliate links to chew toys, nutritional dog food, dog houses, etc.
Keep your sub-niches relevant to your main niche. Example: Don't promote kitchen cooking gadgets on your dog training site, Soooo not the same niche! Who would take kitchen gadgets seriously on a dog training site?
That's exactly the way Google feels about it. Keep your content relevant within your niche. And to REALLY conquer your niche and show Google what an expert in your field you are, write multiple (at least 4) articles on 1 sub-niche topic using different related keywords.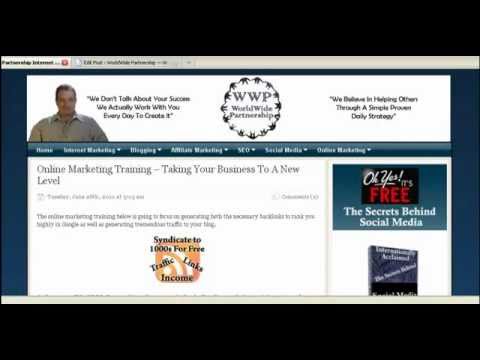 If you are in the network marketing online business, then write multiple articles on the topic of Search Engine Optimization (SEO) and give your fellow network marketers the help they need to get their content SEO'd properly. Write 4 articles, such as 'SEO Strategies', 'SEO – In 5 Easy Steps', 'SEO Advantages', 'SEO – Optimize Your Blog With These SEO Plugins'.
Now take your multiple articles and interlinking them to each other using keyword text links, publish 2 of them on your blog.
Publish the other 2 articles in an article directory such as EzineArticles.com, placing the keyword links at the end of your Ezine Articles, linking them back to both of your other 2 blog posts.
Interlinking all 4 articles shows Google you are a force to be reckoned with.
If you persistently follow this strategy, you will achieve a page rank of 2 for your blog, your niche website will be viewed as an authority in your field, and you'll have traffic and leads pouring in.
There is a lot more detail to this niche domination strategy, including very precise keyword research and syndication techniques to go along with it. All of it done together is absolutely critical to the success of your profitable niche marketing online business.
If you want to discover the exact step by step strategy it takes to dominate your niche and transform your income to 5-figures per month –  then you MUST watch this video. The WorldWide Partnership Backroom